BARKLEY'S THESIS
SECTION 1: HYPERFORUM ACTIONS AS SELF ORGANIZED ENTITIES
The process of engaging in a hyperforum involves the user (hereafter, "hyperion") eliminating his ego-identity and entering a trance state that has been described as a "digital fever-dream" and when "what you post comes from somewhere other than yourself." Until he can achieve the desired trance-state he is unable to be drawn in to the simulation-stream and it appears as incomprehensible, schizophrenic chaos-language. What the hyperions are in fact performing is an embodiment of a daemon in a distributed multitask computing process, similarly resulting in their independent chaos occasionally acheiving spontaneous unplanned organization of highly complex structures - what the hyperions call "actions."
These actions are the product of spontaneous self-organization and take many forms, the most common being sudden narrative organization of a collectively generated fiction that takes the position of a guiding myth in the community. More infamous actions result in group departures of the microcosm in raids on other communities, or mass self-induced delusion as a kind of self-deprecating humor. Other actions result in the coining of neologisms and cultural codes that work to further isolate and purify the community into its own inherently discreet microcosm, to more advanced forms of meaning-generation often in encoded numerology or symbolism. While actions are considered to describe all major and remembered acts of spontaneous organization, those that leave a marked influence on the community, stratifying its inherent structure in effecting all behavior post-action, there are infinite miniature organizations of every degree -any two independent users interacting in any way that can be interpreted as non-random is a form of self-organization; actions are only those most massively meaningful. There are however, rumors of hyperreal manifestations - that which escape techno boundaries and stratify the real world.
These formations are not simply organizational but also descriptory - really, the illuminatory. They are illuminating the inherent archetypal commonalities shared - and grown - within the simulated micro-community, that which normally exists above beyond them except when a flash of their image can be known during an "action" - it quite literally a kind of divination. When hyperions lose themselves in their fever-dream ritual of rapid-pace, superlingual communication they are communing with a higher form: the collective's assimilated thoughtmatrix. This necessarily grows out of what's brought in from all present hyperions claiming tenancy of each independent hyperforum instance and their isolated, shared inherency, the fundamental eternals by each demographically-unique community which is then grown and twisted over its ultra-accelerated cultural evolution and historical accumulation.
While the knowledge that systems of horizontally decentralized independent actors will spontaneously self-organize into highly complex structures (to eliminate inequilibriums in their system) has been a known principle for some time and recognized in organic, material and digital contexts, the radically advanced results we're seeing from self-organization in hyperspace is due to four factors: (1) the high info-density and variable-complexity of human actors; (2) the anonymous ego-elimination guiding human actors into a true independent actor role; (3) the extremely fast rate of cultural development relative to organic history; (4) the fractalized picto-linguistics isolating each to a discreet microcosm. The obvious implication is that these are simplistic systems containing complex actors and dense pseudomorphic histories, digitally accelerated, resulting in frequent ultra-complex organization, but more intensive is that the controlled distortion of the system performed through willed adjustment to their own simulated thoughtspheres and selective introductions of inefficiencies into their closed system is not only possible, but relatively accessible, allowing hyperforums to coax their own self-organization towards partially planned forms. While early hyperforum activity existed as a kind of sport, users innocently entertained by the visionary results of their spontaneity games, the greater hypersphere has entered what I would consider their late-stage: collective, willed designs of their own pseudomorphic foundations towards the goal of achieving increasingly elaborate and advanced "ultra-actions," with varying motivations.
Where these ultra-actions are taking these hyperforum communities, no one can know but the increasingly complex structures they are enabling have convinced many of their imperative importance of various explanations. What was initially a novel pastime has taken on a faithful vitality strongly defended by its adherents though by no means from an agreed upon foundation. The four imperative-leaning ideologies are: (1) performance of a distributed artificial intelligence as a mass human-machine; (2) divination with eternal deities who have eternal Truths hidden in the collective consciousness to be re-discovered; (3) calling to achieve the final stage of humanity's evolutionary purpose, the spontaneous organization of a God-AI; (4) Janitorial necessity tending to the fabric of contemporary existence by influence over world events. While mainstream theorists would deny that anything hyperreal - let alone supernatural - is at work here, the community's old paradigm [that the second law of thermodynamics and that the spontaneous self-organization it produces is THE ruling principle organizing all organic and inorganic material in the universe and that the extremity of their actions are simply the product of their accelerated microcosms] has increasingly been shown to be inadequate in explaining the "real world" manifestations that have come to occur now that hyperforum communities have become relatively sophisticated in controlled changes to their environments. Of course, traditionally unexplainable phenomena resulting from especially catalyzed actions had been ever-present in the community, but until it began to be predictably produced, it was largely dismissed as hyperstitional rumor farming by the non-conspirational (given the post-fractal-collapsed, picto-linguistically isolated nature of the community, the possibility of such bourgeois concerns as a standard of evidence are made impossible).
SECTION 2: THE ACCELA RC'S ACTUATION POTENTIAL
To be written...
SECTION 3: THOUGHTFORMS AS CYBERDIETIES
While the quantum origin hypothesis is a technically promising explanation, it is a known fact that the communities that have most successfully demonstrated control have operated under supernatural, occult assumptions. By embracing ancient Truths - of many differing orders, from paganistic rune formations to kabbalist numerology - the cybershamanists have all come to find invocation power outmatching other communities and alone can attest to a somewhat predictable control of the manifestation of complex forms. Quantumnals would argue it's only because their shared foundation in spiritual delusion allows their intuited edits to the collective beliefmatrix achieve universality reliably, but it is no coincidence the form parallels so closely past ritualism. It is nothing short of a rediscovery of eternal Truths derived just the same in ancient times. The effectiveness of the occult psuedotruths invoked by the shamanists prove they are supercedent cybertruths, the only that have yet been discovered. What is being re-discovered are fundamental, transcendent organizing principles that can be used as guideposts to guide the chaotic simulation-streams.
Profile Pictures Gallery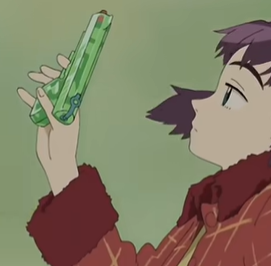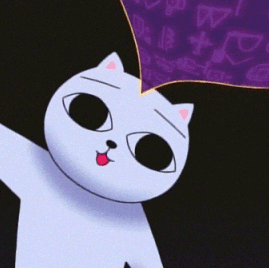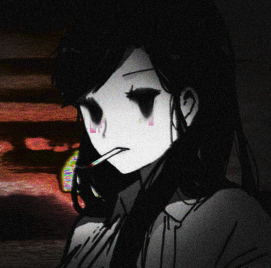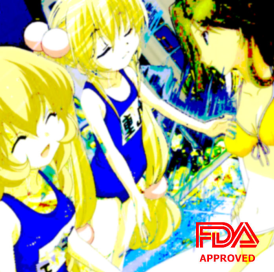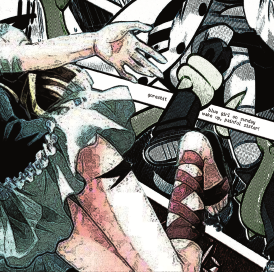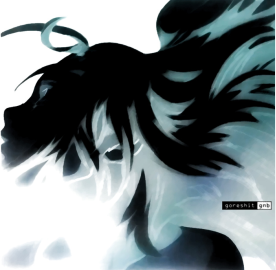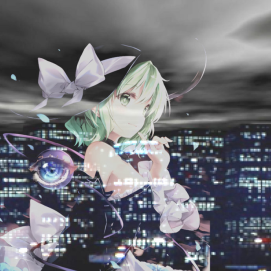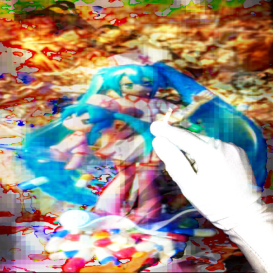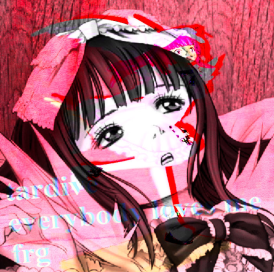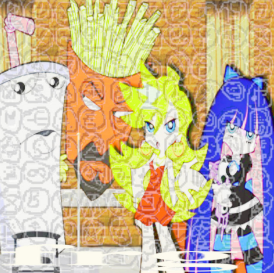 2. The troubled soldiers reported cryptic symptoms:
"meanwhile space and space of me. . .seethingly that itches me. . .continually we writhe and blister"
"ocelli. . .infinite pullulation of ocelli. . .I give myself up to the ocelli. . .to the infinitesimal tearings, to the spiraling. . .I fold to the thousand folds that fold and unfold me. . .traitors, they giddy me unravel me. . ." and perhaps most bizarrely "in a high space beneath my open forehead. . .suddenly. . .I see. . .rising in tiers. . .rising in tiers. . .in tiers to the infinite. . .at angles. . .at angles. . .at angles. . .enormous, gigantic flamboyant. . .gothic monuments. . .streaming, exasperated, possessed. . .acceleratingly. . .with gothic leaps and bounds. . .with gothic chromatics. . .with gothic ballistics. . .jet-gothic."1
3. After this particular examination, health warnings were immediately issued to all Huey pilots.
1. Meanwhile, up river, at the bass of the spine, ko::labs bring the noise; "Noise is both battle and racket. . .Noise is a weapon that, at times, dispenses with weapons. To take up space, to take the place, that is the whole point. . .and noise occupies space faster than weapons can."2
2. "When I read the definition, something like 'the twisting, rotary force, especially within a machine', I was like, that's what we do."3
3. Torque is any force or system of forces that causes or tends to cause rotation, a twisting effort applied to a object, body or limb that tends to make the object turn about its axis of rotation. The magnitude of a torque is equal to the magnitude of the applied force multiplied by the distance between the object's axis of rotation and the point where the force is applied. In many ways, torque is the rotational analogue to force. Just as a force applied to an object tends to change the linear rate of motion of the object, a torque applied to an object tends to change the object's rate of rotational motion.
1. The angular momentum of breakbeat culture provides a sonic simulation of hyperurban meltdown. Not an analogy but a cartographic isomorphism opening sonic production onto a war continuum which deposits localised chaosmosis on every scale. 'Jungle's basic problem'- how to sustain rhythmic asymmetry, nurture the swerve, sustain the turbulence- 'what degree of stratification is required to get distributed?' Protracting activity against hyper-control through a becoming imperceptible. Programmed catastrophe means that the 'nomadic speed' of the extensive riot is already overexposed in a cyberfascist video capture- digitalization as stratification. From the amped-down, two-step stand-up of monoplod neuro-funk (eg. Shadow Boxing) to the turbines of no u turn, dillinja, lemon d, technical itch etc. to the elongated snake style of source direct (razors edge 5), the phase space of breakbeat warps, breaks down, solidifies and dissolves as if waiting for a geological singularity to send a new seismic wave through the submarine rhythm space of pop culture. Digital turbulence. Haptic cyberspace.
2. Following the smallest angle of deviation with each step-step-step-sonic sun tzu- very, very dark- emerging as quantized hendrix, hydrolicks by dom & roland picks up with three cycled break-beats and gradually swells until the rhythm can dam no more and is flooded by the nightmare roar of juggernautic stares and laval bass stabs. storm kemistry.
3. longitude zero degrees. the drowned world. London - the vortical apex at the sonic base of the planomenal transoceanic drainage slopes. Echoing signals of Kondratieff phase- 4 implosion as K-5 USA opens to K-6 China: how low can you go? "The reason why the River and the Sea are able to be king of the hundred vallleys is that they excel in taking the lower position."4
1. Scale 1:50,000 - zoom - 1:50 - zoom - 1:1- zoom - 1: 0 - touch down 0: very, very dark, engage pattern-recognition: movement breakbeat-consistency 0023050700. full cycle. trajectory:
29 K'AN

49 KO.

darkcore#destination#bass#bin#climate#tropical# cyclonic#wet#metal#topology#smooth#cable#spine# synapse#ether#tactics#swarmachinic# mission#hot#rinse#micro-delamination
2. Tackling the counter-hydraulics of the metric with the hydraulic tao of breakbeat "Highest good is like water. Because water excels in benefiting the myriad creatures without contending with them and settles where none would like to be, it comes close to the way..."5 Heavy water is liquid metal.
3. kemistry - "With stupefaction you witness those sporadic eruptions, thin, mad fountains, those jets of water, more jet than water, bursts primarily, punctiform excesses of forces, delirious spectacle of inner geyserization, signs of the prodigious increase in the potential of the neurons, of their sudden nervous discharges, signs of hurried releases, of micro-movements, of beginnings of movements, of 'budding movements' and of incessant micro-impulses..."6
1. Guerrilla hydraulics provide a submarine junglist breakdown with haptic navigation. a cybernetic steering for dark waters. a fluid pragmatics in continuous variation. the surplus value of post-social cyclonic Meltdown produces subass materialist techniques: cubasic pragmatics, sonic hydraulics, kronik hydrophonics and sampladelic metallurgy.
2. darkcore
3. Afrofuturist- occidental implosion. drawing the skunk into cyberpunk.
latitude- 34°N
longitude- 118°W
1. This is L.A.- a hardstep jungle track by Lemon.D. A high velocity West Coast gansta´style intro bifurcates amid swarming news helicopters into a dark cyclone of compressed and twisted breakbeats. Distributed in the swirl are rhythmically inserted crime reports and Roy Ayers samples from "Everybody loves the Sunshine."
2. Sinofuturist- super-nova tzu electronic shaolin zinc infiltration of the new age carbon-analogue orient.
Latitude- 22°N
Longitude114°E
3. The state drifts south and the south drifts east in a sinofuturist storm - "the vast bed of the waters seamed and scarred into a thousand conflicting channels, burst suddenly into frenzied convulsion- heaving, boiling, hissing- gyrating in gigantic and innumerable vortices, and all whirling and plunging on to the eastward with a rapidity which water never elsewhere assumes, except in precipitous descents."7 downhillride- no u turn. "When you have come to grips and are strung together with the enemy, and you realise that you cannot advance, you 'soak in' and become one with enemy. You can win by applying a suitable technique while you are mutually entangled."8
1. Big blue beats aka drippy, aquatic 'intelligent' drum&bass lies at the fringes of the most effective jungle hydraulics. For sure, fly jump-up (check Pascal's gangstadelic swarmachines on Frontline- Cut Throat, True Playaz- Vortex and the New Frontiers E.P.) and dark-step whip up more vortical activity and hoover-bass low seas viracy in the jungle break-war against the military-entertainment copyright complex (WBO).
"Attack in an unsuspected manner, knowing his metre and modulation and the appropriate timing. Knowing the times means your ability is high, seeing right into things."9
2. The breakbeat forms a mutating fractal coastline, a real sonic cartography mapping the diagonal which cuts between the double articulation of order and chaos, rhythm surfing between the intensity irrigation of metronomic ice and the opiated cosmic nauseous pulses of free jazz.(sonic despotism and its moving shadow) Flotation tank ambience shattered. On the plane, glass shatters dissolving specular dominance into the haptic. Dark side guidance. Grooveriding.
3. Kem-isssssssstry - micro-delamination attacks the folding of rhythm into metricity. "It is difficult to move strong things by pushing directly, so you should injure the corners."10 phlattening beats.
1. The channel hacking used by Dylan on Turbulence (droppin' science.) makes the DJ and the cross fader immanent to the track. Every 12'inch has a slightly different channel mix so that the rapid cross-fade punch, kicks open sonic trapdoors, you leave your head and enter one of the other ones. Simulating changes of altitude and the corresponding perturbation of sensory perception. Grey matter crust warps with the torsion. Perception is the silver surfer skipping between 4 boards in a high roller submarine rhizodrome .
2. "For a long time turbulence was identified with disorder or noise. Today we know that this is not the case. Indeed, while turbulent motion appears as irregular or chaotic on the macroscopic scale, it is on the contrary, highly organised on the microscopic scale. The multiple space and time scales involved in turbulence correspond to the coherent behaviour of millions and millions of molecules. Viewed in this way, the transition from laminar [ie.non-turbulent or calm] flow to turbulence is a process of self-organisation."11
3. As drum'n'bass jungle's immobile motor, the breakbeat carries key traits of self-similarity irrelevant of scale. it is as if there is an elastic tension between the metric number line and a secret encryption involving prime numbers in a cyclic discontinuity weaving around, converging and diverging. Continuous variation with nomadic numbering numbers tagging the real intensity, which on the metric plane of organisation dissipates along the military dateline of history. "Continuous multitude. Vibratory, zigzagging, in continual transformation. Lines swarm."12 But never parallel. Always an angle of declination, a line of deviation which, more than a mastery of an enslaved machine, is evidence more of the productive accidents of sonic arrangement - "The whole series of things about accidents, about bugs, about the producer being someone who can nurture a bug, who can breed a bug and simultaneously most of the key musics have been accidents, they've actually been formed through errors. They're like software errors, syntax errors in the machine's programming, and they form these sounds, and the producer's taken these sounds and more or less nurtured this error, built on this mistake, and if you grab a mistake you've got a new audio lifeform."13
1. "don't think of breakbeat in terms of some kind of ancient technique which has been resuscitated. . . you see a lot of people saying breakbeat is the. . .return of the African drumming sound, but its the other way around. The breakbeat should be moved forward."14 it was virtually always there in the zeroid smoothness of the matrix. Rhizomorphic Black Atlantic.
2. On the upside motion capture is a planetary irrigational skin, the carceral continuum sidewinding through grey matter, electronic writing, CAD, GIS, thermal imaging, digital sonic strata-ware - all regurgitate perturbation feeding it back into statistically classified layers. Meanwhile in Shaolin, virtual becoming dissolves into the actual, depositing breaks into code then vinyl, remapping the body for a kinaesthetic warzone as the 21st century swells the damms of the human security system- "there is a sense in which the nervous system is being reshaped and rehalted, for a new kind of sensory condition."15 Breakbeat DNA scratched into the flesh.
3. Remote sensing malfunction. Accidental co-ordinate displacement. Unable to correct time.
1. Sidewind out of time- positive plagiarism to the sim-jungle of Shaolin.
2. 540 A.D. Bodidharma, Indian Buddhist priest visited China checking upon local monks who had begun the process of translating Sanskrit texts to Chinese for the contagion of the oceanic multitude. Refusing the Emperors belief that by his noble act he was opening his personal gate to Nirvana, 'Tamo' journeyed to the "young forest" (Shaolin) of Honan to consult with the monks. Dazzling them with his laser vision, he gained admittance. What he found was a funkless, clod of inert temple organically segmented. He was phased by their inability to perform the most basic of meditation practices, (these monks, they always dance to the words, he thought) The stylus descended down into the grooves. A rough ride. Disturbance in the ride ignites a current traversing conduction media, amplifying, vibrating molecules, shocking joints, sweeping anything in the way towards the plane. Down. Down.
Technics. Shark. Amp. Bins. Air. CNS. Hardrive. Liquid mechanosphere. Metal ocean. They drained into him like water down a plug hole. Dark Metal.
3. "We master archers say, with the upper end of the bow the archer pierces the sky, on the lower end, as though attached by a thread, hangs the earth. If the shot is loosed with a jerk there is a danger of the thread snapping. For purposeful and violent people the rift becomes final, and they are left in the awful centre between heaven and earth."
1. Re-engineering the circuit, smoothing out the movements of the square-eyed transcribers using becoming-animal electronik chi enhancement. These techniques of Shaolin break fu functioned at first as self-defence from local gangs and predatory animals. Prey speed. Surfing the diagonal between Buddhist non-violence and an the testosteronic annihilatory discharge of captured martial potential, deploying tactics of self-defence and conflict avoidance. There is no real acceleration between kung fu catatonia and lightning. The potential for continuous variation and transformation approach pure speed, chi lubricated breakbeat limb deployment towards planes of consistency- the eight steps of the snake and crane.
2. Shaolin is swarm catalyser, programming triad syndicated film production in Hong Kong, golden triangle poppy production, Kowloon kemical distillation and encrypted planetary distribution networks rinsing out global finance in San Franciscan Laundromats.
3. True playa'z. "High voltage rhythmic paroxysmal outbursts. Isolated peaks. Multiple peaks. Bifid waves. Sharp waves, strings of waves of bristling appearance in the shape of comb-teeth, saw teeth. Slow waves. Slow sinusoidal, hypersynchronous outbursts."16 In anticipation of hydraulic breakage ghosts of low budget kung fu flics swarm in on ghettoblaster/mat street assemblages remixing the body rotor style.
1.Sustaining disequilibrium. "All things entail rising and falling timing. . .From the outset you must know the applicable timing and the inapplicable timing, and from among the large and small things and the fast and slow timings find the relevant timing, first seeing the distance timing and the background timing. This is the main thing in strategy. It is especially important to know the background timing, otherwise your strategy will become uncertain. . .Many things can cause a loss of balance. One cause is danger. . . another is suprise. . .in single combat, start by making a show of being slow, then suddenly attack strongly. . .You win in battles with the timing in the Void born of the timing of cunning by knowing the enemies' timing, and thus using a timing which the enemy does not expect."17 "Asymmetry of amplitude, asymmetry of rhythm, total change of rhythm."18
2. But "[I]t is true that the martial arts continually invoke the center of gravity and the rules for its displacement. That is because these ways are not the ultimate ones. However far they go, they are still in the domain of Being and only translate absolute movements of another nature into the common space- those effectuated in the Void, not in nothingness, but in the smooth of the void where there is no longer any goal: attacks, counterattacks, and headlong plunges."19
3. "Everyone knows the most daring soldiers go no faster than the music. The noise, first. . .fury belongs. . .above all to the multitude, and the multitude rushes around, it covers space like a flood."20
1. McLuhan argued that electric circuitry was Orientalising the West attacking the contained, the distinct and the separate with the flowing and the fused. But there is no real opposition between the digital and the analogue. The flatline cut through both. Pure energy. Pure speed. Pause.
2. Perceptual neuro-kemical weaponry. Stimulants attacking organic humanoid hard-wiring: "Affects transpierce the body like arrows, they are weapons of war. The deterritorialisation velocity of affect. Even dreams...are externalised by a system of relays and plug ins, extrinsic linkages belonging to the war machine. Broken rings."21 In the oscillation between catatonic freezing and flashes and rushes: "the Japanese fighter, interminably still, who then makes a move to quick to see." When Deleuze & Guattari diagram the release of a speed vector that characterises a war machine, they are mapping traits of a poised fu assemblage "keeping still" or voyaging in place. The d-d-r-r-o-p. deep ko-ma.
3. Taking Paul Virilio's equation of all speed with fascism would lead to lumping together shaolin wu-funk, jungle hydraulics with the freikorp stomp of Euro-terminal gabba in terms of a paranoid poliocetrics of the body, its fortressing and its seiging. But the real break is between the crypto- fascist masculine steel hard body shell with its metric hammer blows(battering out a plane of organisation) and a nomad war machine of beats so rhythmic they map the metallic ocean, that massive conduction circuit that connects the iron core at the centre of the earth, slivers of mineral deposits in the continental shelves, those vast seas of di- hydrogen(rigorously a metal) oxide, into the ferric capillaries of blood music. The plane of consistency.
1. The breakbeat, not an interior militarized metric, is kemical attack on the organism. "It is not surprising that the plateau of continuous immanence that is drum&bass conjugates with amortal kombat in its dismantling of the organism's strata. Big up your chest, wind up your waist. Limb by limb, the WBO is mashed up; the European corpoReality principle disorganised and detrimentalised."22 Mercury rinse.
2. For some, it is not a matter of switching from macro violence to micro violence but molecularizing further still to the art of fighting without fighting and further still, micro-engineering out of war: "Photeks interest in the Orient is different, however. The Pacific Rim allusions in `Ni Ten Ichi Ryu', `The Water Margin' and `Seven Samurai' speak more of the elaborate subtlety of Japanese tea ceremonies, the miniaturised intricacy of Bonsai, the elegant simplicity of Shodo (the art of ink writing with sparse brush strokes)."23 Yielding without resistance, actionless activity, voyaging in place, continuous imminence. Vortical poise.
3. Afrofuturist- Jungle singularly marks the convergence between black rhythmic culture and mutant technology. Viroteknical infections of mainstream advertising. accelerating attacks on MTV programming grids with incidental hives of metallic inssectssss. intensssive sssonic cartographics for a neo-Medieval scenario, spat out the rear end of a disciplinary state megamachine complex, a process initiated by what old dead metalhead, Foucault termed the "Great confinement."
1. "Like gangsta rap, Jungle reflects a Medieval paranoiascape of robber-barons, pirate corporations, conspiracies and covert operations,"24 and influenced by "dystopian sci-fi movies that contain subliminally anti-capitalist messages," with their "images of carceral inner cities(Escape from New York, Running Man), high-tech police death squads(Blade Runner), sentient buildings(Die Hard), urban bantustans(They Live!), Vietnam-like street wars (Colors). . .[and which] only extrapolate from actually existing trends".25
2. Hyper-urban neo-medievalism is high rise meltdown.
3. "A series of minorities rejecting integration, form clans, and each clan picks a neighbourhood that becomes its own center, often inaccessible. . .The clan spirit dominates also the well-to-do classes who, pursuing the myth of nature, withdraw from the city to the garden suburbs with their own shopping malls, bringing other types of micro societies into existence."26
1. Turbulence in the Burgess model of the megalopian military-industrial-entertainment complex.
2. The Vietnamization of territory, perpetual war in the urban jungle, gang collision warding off the state. Endo-colonisation along shifting internal frontiers. The destruction of the modern city is totally consistent with the military's need to maintain a clear field of operations, making over the earth in a form which denies cover to any resistance. Pure war.
3. Jungle processes a future "complete with fortress cities and bandit clans. . .the pervasive sense of slippin´ into a new Dark Age, of an insidious breakdown of the social contract. . .a world that is falling apart. . .There is a cold rage seething in Jungle, but it´s expressed within the terms of an anti-capitalist yet anti-socialist politics. . .the art of being a roller, a steppa. . .(to) handle the ruff ride."27 Twisted anger. La haine cyberpositivized in special techniques. Ko::style. A.W.O.L.
1. The smouldering slow motion riot of the megalopian jungle attacks code from all directions. The breakbeat infects the mono-plod metricity of white technosonics, while graffiti engages what Baudrillard terms a riot of signs, eternally tracked down onto new smooth spaces, asignifying codes with a secret functionality injecting compressed doses of intensity into the striations of the spectacular state, only to be countered by self-cleaning metro shells. Makin the walls move. Bass frequency. Sonic graffitti - back in amazone white man face tries to argue(militarized metric-dialectics) with bass. blissful noise of language drowning in dark metal. voices "sink away in a kind of muffled roar which one hears with only half an ear at first, and in the end one finds it no more disturbing than the distant roar of the sea, which, once one has grown accustomed to it, is no longer perceived."28
2. "Dark is where . . .predatory energies meet digital technique, where id gets scientific."29 You don´t need enlightenment in haptic space.
3. "Drying up, death, intrusion have rhythm. It is well known that rhythm is not meter or cadence, even irregular meter or cadence; there is nothing less rhythmic than the military march."30 There is nothing more rhythmic than a breakbeat swarm.
1. Interminal epistemological wrangling about postmodernity seems merely a distraction when these key transitions are best tracked by a su-b-ass materialism.
2. Machinic night-vision reports from the dark side of the Occident, mapping the interlock of desiring machines, social megamachines and war machines as technology converges with biology in computerised control societies.
3. Planetary capital flow redistributes bringing novel mutations along the axes of East-West and North-South. "The more the world-wide axiomatic installs high industry and the highly industrialised agriculture at the periphery, provisionally reserving for the center so-called post-industrial activities (automation, electronics, information technologies, the conquest of space, overarmourment etc.), the more it installs peripheral zones of underdevelopment inside the center, internal Third Worlds, internal Souths.'31
1. Unequal exchange- the immanence of axiomatics escalates perturbation from ripples to tidal waves of decoding and deterritorialization with the flick of the switch- capitalism implodes as perfected revolutionary overdrive.
2. Zero sum war games deployed on the socio-scape "Crime 'war', drug 'war,' 'battle' for the family. . .wherever there is a perceived danger, there is deterrence; whenever there is deterrence, there are immanent boundaries; and wherever there are immanent boundaries, there is organised violence. For having boundaries that are actualised by being crossed is a very precarious way to run a world"32
3. Gulf operations of the wu world order.
1. Barbed circuit-wire jungle vines in a multi-scalar, headless, cybernetic planetary world system.
2. So-cal becoming-minoritarian. 1992 prime time. judicial rubber stamping of video captured micro-fascism ignites urban turbulence. The anti-black counter-insurgency of "the dream city of free circulation" programmed to irrigate afro-futurist hydraulics. discard population or resort to modulation; integrate or exterminate.
3. Ultra-real video capture dissolves nostalgia. LA Law edits Kings beatings to generate bizarre retrospective lubrications for control machinery. Digital cut ups of the video, freeze framing, stretching and looping the baton swings in order to saturate Kings black body in signs of danger, fight and flight.
1. That episode is saturated with the solid state code of homey hunt counter hydraulics. the fear of untamed speed. Rhizomaniac pattern recogniton confuses King's vector through Lake View Terrace with the nomadic gangbangers of South Central, the focus of LAPD's deployment of low intensity warfare on the multi-ethnic field. The paranoia of population lamination processed the temporary truce between Crips and Bloods as stage 1 of a Farrakhan orchestrated take over conspiracy demanding the management of "terrorist" populations, through actual or virtual imprisonment and martial law localised to the 'hood.
2. From discipline to control.
3. From welfare to warfare.
1. "The social and political fluidity of late capitalism has not been accomplished by a withering away of state violence. On the contrary, state violence has also been fluidified and intensified. The rapid deployment force is the model of late capitalist state violence, on all fronts: the ability to descend 'out of nowhere,' anywhere, at a moment's notice- the virtualization of state violence, its becoming immanent to every coordinate of the social field, as unbounded space of fear."33
2. From surveillance to monitor.
3. Riot coverage shot from helicopters doubles as news footage indicating a shift from the ubiquitous vision of the sovereign to the stereoscopic partial coverage of monitor. Zoooooom lense technology advances since Watts '65 engaging a regurgitative potential. The eye converges with the arm. Visibility is death. Lasered futures. Latitudinal Zero. Absolute speed.
1. Lamination is the capture of decoded flows using LAPD rhizomaniac vortices sent through South Central searching and sucking up all amateur video footage of the riots. the fear of an unmeasurable speed. Naked LAPD, slooshing down media meme pool flumes entangled with the Kings' other body, Rodney King. In South Central, the memes go swimming in a flashpoint to urban turbulence.
2. "the wind of violence, unleashed, mastered, lost, retaken, delirious, and disciplined. It subsides and swells like action, but it is like action, disorder and danger, to be controlled. . .from bodies to the collective, in a lightning short-circuit, without language, through the groundswell of violence and pandemonium."34
3. Brownian Canetti swarms in flight from the irrigation of the City of Quartz, swept up into the hyper-urban fear ecology. Post-social cyclonics tuning into the info-numeric weather system of fyber-space.
1. Postmodern bread riot and multi-ethnic explosion and prime-time Nike redistribution.
2. The digital capture of the LAPD chemical clock, frozen with their pants down revealing erect baby lobsters. LAPD, zone of indistinction rapidly oscillating between thin blue line, the threshold of capital security and bloody red stains on their paranoid armoury. Naked LAPD, apparatus of capture, cybernetic homeostatic hoover with teeth, emptying its migrant dust into the deep end of an increasingly pervasive carceral continuum, or in Mexico. Intelligent hoovers who know the way to San Jose.
3. Code 187
1. fuzzy dread "when I was here I wanted to be there. . . and when I was there, all I could think of was getting back into the jungle."35
2. sidewinda vortext
idewinda vortex
dewinda vorte
ewinda vort
winda vor
inda vo
nda vo
da vo
a v
v
3. "bringing writing and putting it onto the second deck and just accelerating it. . "36
1. darkcore.
2. No u turn.
3. turbulence is a ko::motion.
CONTROL PANEL
Soundbank
Dom & Roland, hydrolicks/resistance, Moving Shadow.
Dillinja, Acid Trak on Pain, Violent Killa on Valve.
Dylan, Turbulence/Desolation & Witchcraft/Virus on Droppin' Science.
ed Rush & Nico, Proton, No U Turn Records.
Lemon D This is LA on Metalheadz, 12.01 on Valve..
Pascal, Vortex- True Playaz, Cut Throat-Frontline, New Frontiers(Ganja Kru).
Photek, Ni Ten Ichu Ryu On Science.
Source Direct, Stone Killer/Dark Metal (remix) on Razers Edge 5 (white), Call & Response/Computer State on Science, Black Rose/ 12 till 4 Hokusai.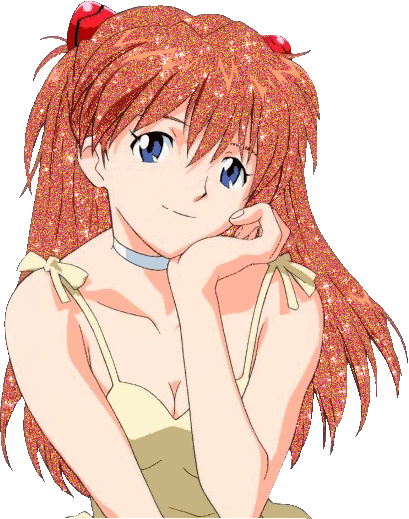 death
Death is not the discrete event suggested by its certification or cardiographic record. The cells, tissues and resident parasites which constitute a body do not compliantly turn off at the appointed time. Skin, bone and muscle cells can continue to live for several days after their host's heart has stopped beating. Bacteria that normally inhabit the colon continue to live not only in spite of their host's death, but because of it. Whereas once they contributed greatly to the digestion of food, they now contribute with equal devotion to the decomposition of their colonic homes.
Death is therefore multiple, and dispersed in time: it is not that absolute, privileged point at which time stops and moves back; like disease itself, it has a teeming presence that analysis may divide into time and space; gradually, here and there, each of the knots breaks until organic life ceases, at least in its major forms, since long after the death of the individual, minuscule, partial deaths continue to dissociate the islets of life that still subsist.1
Whilst there are no dead ends, there are restrictions, inflexions, and critical points of bifurcation. Although the visceral disturbances of both life and death share similar micro-organic machinery and as such project innumerable lines of continuity across the supposed life/death threshold, the interaction of microbes both with each other and with larger organisms and ecologies do suffer breakages and radical points of departure. Long after Foucault was declared dead, his body continued to teem with life. However, as the micro-organisms that inhabited that space before the 25th of July tried to adapt to their dramatically changed circumstances, new life and other opportunistic invaders began to stake their economic claims on Foucault's carcass. Beyond some critical point, the economic advantages of incorporation fell behind the potential profits of a dramatic demerger.
The human body is a site of extraordinary specialization. Whilst certain cells contribute to the provision of sophisticated transportation, communication or security systems, others, relieved of the necessity to search out nutrition or defend themselves, are able to perform specific localized functions within, for example, the skin, the heart or the brain. The human complex is determined and maintained by exactly replicated genetic information contained within the millions of cells which collectively constitute the body. Whilst the total genetic information in each cell is identical, only a tiny proportion of that information is ever used by any one cell. The specific functional effect of the genetic information within each cell is dependent on the position of that cell relative to neighbouring cells. Due to their economic specialization, multi-cellular organisms can cope easily with the odd malfunctioning cell. If for example an individual cell within the kidney develops more like an ear cell, due perhaps to some incorrectly reproduced genetic software, then the incongruous positioning of such an alien cell will normally be detected by the network of cells adjoining it.
Towards the end of his life, Foucault's body became an increasingly intricate ecology with the relationships between cellular guests, hosts and viral intermediaries delicately balanced. With an immune system diverted into the production of Human Immunodeficiency Virus, the functional advantages of maintaining the acutely specialized cellular structures associated with humanity became increasingly tenuous. Like huge industrial corporations that have become ridden with bureaucratic entropy and dissonant management styles, biological structures that have ceased to function effectively as unitary organisms can disintegrate into smaller, more efficient centres of production.
The human body, like any economy, is of course not a closed system. Whilst its genetic makeup might provide an impetus, constant interaction with other systems around it and within it perpetually challenge and mediate the body's boundaries. Just as each cell forms relative to its neighbouring cells, so each body is continually reconstructed in relation to its environment. The development of particular muscle groups, the accumulation of plates of hardened skin or the curvature of the spine are affected by terrain, climate, habitat and occupation. Streams of carbohydrates, water, bacteria, oxygen, proteins and information are constantly trapped, bound and diverted through the networks of veins, ducts and neurons.
In addition to environmental factors that are chemically absorbed directly into its genetic structure, the human body regularly encounters microbes which variously nestle within its complex folds. Without becoming part of its innate genetic structure, viruses, bacteria and other parasites successively enter into a number of interesting arrangements within the human body. On some occasions parasites are detected by the immune system and immediately destroyed whilst on other occasions a more elongated battle occurs during which symptomatic disease may result in the host. Interlopers are sometimes permanently accommodated within the body's elaborate structures -occasionally the presence of aliens is merely tolerated, at other times the introduction of additional genetic information can be advantageous and is positively welcomed. Viruses, in particular, achieve such a close relationship to their host that drawing a distinction between host and guest becomes impossible.
A virus is little more than a wandering capsule of genetic code. Unlike bacterial parasites that can replicate, given the right nutrients, outside a host, viruses can only replicate through entering into a symbiotic relationship with a host cell. Viruses are extremely efficient pieces of machinery that are structurally pared down to a minimum. The genetic information stored in strings of either deoxyribonucleic acid (DNA) or ribonucleic acid (RNA) refers only to those vital functions that cannot be performed by a host cell. Like specialized pieces of software floating on the net, each virus contains the critical information necessary to perform a specific routine. In order to activate the virus's self replicating program, the necessary genetic instructions must to be imported into the appropriate hardware and accompanying operating system. Once the virus, or at least its packaged genetic code, has physically entered a suitable host cell, the genetic software can effectively be unzipped and subsequently installed into the cell's existing operating system. Different viruses interact with their hosts in various ways, ultimately however, they must all achieve a similar programming feat. Viruses must effectively reprogram the host cell's own replicating machinery and utilize its resources in order to reproduce.
In the case of HIV, the appropriate hardware can be provided by CD4 T-cells. CD4 T-cells are crucial to the human immune system in that they play a dual role in the recognition and eradication of both intracellular and extracellular invaders. Through reprogramming one of the human body's chief security agents, HIV performs an incredible pincer movement. Not only is the virus provided with cells willing to become HIV replication factories, but through corrupting key elements of the body's immune system, HIV simultaneously reduces the possibility of detection. HIV appears to be strategically astute, after initial infection, the virus often maintains a low profile for many years during which time, it gradually infiltrates its host immune system and optimizes replication potential through exploiting routes into other host bodies. The full implication of HIV's painstaking work only becomes fully apparent when, at some point in the future, a third party opportunistically utilizes and develops the work already completed.
The body of Michel Foucault, which earlier appeared to have such distinct insides and outsides, blurs in both directions. HIV, having entered into partnership with the CD4 T-cells which were formerly in alliance with his body's immune system, systematically changed his genetic make-up. The new function of these cells became the reproduction of HIV. Similarly Foucault surreptitiously entered and infected some of the crucial structures of his environment. Unlike other more obvious foe that broadcast their malicious intent as they embark on full frontal attack, Foucault negotiated his way into centres of production through forming pragmatic relationships in culturally sensitive zones.
Consider, for example, the discursive structures that produce the author. Prior to infection they produced a broadly linear model of authority where the ideas contained in a text, for instance, were the unproblematic product of a particular person. Foucault's interaction did not cease the production of authors, but fundamentally changed the discursive programming through which they were understood. By reconstructing the author as a discursive product itself, the Foucauldian infection did not destroy the text production machinery, but instead repositioned the author as a function of that machinery. Obviously, Foucault should not be thought of here as the author of this change, but merely as one factor amongst many which in combination proved sufficient to effect a change. Similarly it is far from clear quite what role HIV has in producing the syndrome of various diseases referred to collectively as AIDS. Peter Duesburg maintains that no relationship exists, others argue for a linear cause and effect model. Given the weight of evidence pointing at some level of connectivity, it seems likely that HIV is in some way complexly related to the array of symptomatic conditions that become diagnosed as AIDS.
During the second half of the 1940s, Foucault spent two or three years at Sainte-Anne, a major psychiatric hospital in central Paris. Foucault's accounts of the period of his life are, according to David Macey, 'fairly vague, if not actually misleading, and are the products of either hazy memory or a reluctance to supply the information that would allow his identity at any given moment to be established with too great a precision'2..."nobody worried about what I should be doing; I was free to do anything. I was actually in a position between the staff and the patients."3 Within the corridors, theatres, arteries and chambers of the hospital, Foucault's own mental instability was free to wander. Just as Foucault's body failed to fully appreciate the lethal potential of HIV, so the psychiatrists of Saint-Anne failed to recognize the potential danger Foucault posed to their authority. Integrated with its CD4 T-cell host, HIV occupies a truly ambivalent position, neither host nor guest, this symbiotic alien passes as a member of a distributed security system. Similarly Foucault, dressed in a white coat, was neither staff nor patient, but enjoying his ambiguous status, he was sufficiently able to pass as an authority figure.
The protein coating that shields the nucleic-acid core of a virus is constructed of successive chains of amino-acid that geometrically lock together like ornate building blocks. It is the intricate shape of the virus's outer shell that facilitates it's initial attachment to a potential host cell. Although viruses are often cell-specific, that is to say that they can only attach and integrate successfully with one particular type of cell, they have no means for actively searching out potential hosts. HIV, for example, can only attach to the CD4 protein which is present on just two types of blood cell. The HIV virus does not exhibit intent, it does not have a pre-existing plan of attack, instead it must rely on chance encounter. On being asked by colleagues at Uppsala University whether he was aware of a suitable candidate for the post of French assistant, Georges Dumézil, with no personal knowledge of a suitable person, happened to mention the post to his archaeologist friend Raoul Curiel. By coincidence Curiel had recently met Foucault and had enjoyed a conversation with him about the uncertain state of his career. Curiel's enthusiasm was sufficient to encourage Dumézil to write inviting Foucault to apply for the vacant post. In taking a job at Uppsala University, Foucault was not enacting an elaborate plan that would eventually led to the heart of the French academe, instead his moving to Sweden in August 1955 was apparently the result of pure chance.
Biographers, critics, opponents friends and other relatives of Foucault have variously endeavoured to encapsulate his major themes, thrusts and intentions. Whether as pathogen, panacea or placebo, Foucault has commonly been positioned as a political agent whose effects are a direct function of his words.
I think I have in fact been situated in most of the squares on the political checkerboard, one after another and sometimes simultaneously: as anarchist, leftist, ostentatious or disguised Marxist, nihilist, explicit or secret anti-Marxist, technocrat in the service of Gaullism, new liberal, etc. An American professor complained that a crypto-Marxist like me was invited to the U.S.A., and I was denounced by the press in Eastern European countries for being an accomplice of the dissidents. None of these descriptions is important by itself; taken together, on the other hand, they mean something. And I must admit that I rather like what they mean.4
The history of human disease has, perhaps unsurprisingly, usually been written from a human perspective. Viruses, represented as pathogenic threats to be battled or better eradicated, have often been named after the bodily symptoms they induce. The conflation of virus with disease is an overly simplistic reduction that crucially misunderstands the mechanisms of both virus and disease. Symptoms can only emerge through the combined efforts of both body and virus. Beyond a host, viruses are closer to being abstractions of information than abstractions of disease. It is not merely the words, thoughts or actions of Foucault that produces bodily effects, it is critically their interaction with the dynamic bodies of knowledge and power that have symptomatic results. Unlike the polemical who merely seeks to replace one orthodoxy with another, the irritant problematizes both.
As evidenced by newly emergent diseases, the modern development of vaccines designed to obstruct specific viruses failed to anticipate their evolutionary potential. In privileging genotypes over phenotypes, the rationale behind programmes of mass vaccination overestimated the precision of viral replication and hence underestimated the ability of viruses to deal with changed circumstances. Evidence amassed through trying to combat HIV has revealed threat massive levels of replication combined with regular mutation allowed new strains of virus to find routes around therapeutic obstacles. In the leather bars of San Franscisco, Foucault discovered similar mechanisms at play. Amongst the throng of sex, drugs and men, new routes to pleasure emerged through the fluid economies of power and identity. Within a context of moral, religious and legal restriction, the repetition and mutation encompassed by promiscuous sadomasochistic activities operate, beyond the necessary intentions of practitioners, to investigate the boundaries of prohibition.
The S/M game is very interesting...because it is a strategic relation, but it is always fluid. Of course, there are roles, but everybody knows very well that those roles can be reversed. Sometimes the scene begins with the master and slave, and at the end the slave has become the master. Or, even when the roles are stabilized, you know very well that it is always a game: either the rules are transgressed, or there is an agreement, either explicit or tacit, that makes them aware of certain boundaries. 5
The configurations of "self" encountered by Foucault in San Francisco should not be mistaken for the other Californian version. 'I don't think that this movement of sexual practices has anything to do with the disclosure or the understanding of S/M tendencies deep within our unconscious...I think that S/M is much more than that: it's the real creation of new possibilities of pleasure.'6 The intricately switching and circuitous relationships between master and slave, pleasure and pain, yearning and disgust, and sickness and health, do not operate to reveal an essential identity, but actively synthesize new identities. Ridden with contradictions, discontinuities and strange connectivities, the temporary self that emerges through S/M does not merely provide an alternative to a properly constituted self, but through feeding back into the productive machinery of identity, it problematizes the very notion of a pre-existing unitary being.
During the second half of the 1970s, the concentration of gay male populations in San Francisco and New York facilitated ready access to seemingly endless disorganized pleasures. In S/M bars and bath houses, anonymous bodies were apparently free to mingle and combine, exchanging information and bodily fluids. Within the opportunistic economies of the dark room and the human body, where complex pathways are casually explored, there are no overarching schemata, no predetermined projects and no ordained truth. Foucault's body, although never a closed system, was enticed, by viruses, fists and other unanticipated connectivities, along the dangerous path that hugs the edge of bodily organization. Born into a genetic straitjacket, the body gradually learns to get out of itself.
As for what motivated me, it is quite simple; I would hope that in the eyes of some people it might suffice in itself. It was curiosity - the only kind of curiosity, in any case, that is worth acting upon with a degree of obstinacy: not the curiosity that seeks to assimilate what it is proper for one to know, but that which enables one to get free of oneself...People will say, perhaps, that these games with oneself would better be left backstage; or, at best, that they might properly form part of those preliminary exercises that are forgotten once they have served their purpose. But, then, what is philosophy today - philosophical activity, I mean - if it is not the critical work that thought brings to bear on itself? In what does it consist, if not in the endeavor to know how and to what extent it might be possible to think differently, instead of legitimating what is already known?7
For Foucault, both writing and sadomasochism were examples of limit-experience, both were material exercises in the exploration of bodily boundaries. Whether they happen to be bodies of power/knowledge, bodies of organizations or organisms, bodies of cells or bodies of flesh, it is the limits and edges of bodies that distinguish the zones of learning. It is the act of pushing a little further, peering round dark corners and searching out the invisible that produces the new thoughts to which Foucault refers. Learning is not a conscious process, it does not happen as a direct result of effort, rather it is the apparent accident, the so-called mistake, the strange coincidence of circumstance that produce unexpected effects and syntheses.
New viral strains are not designed by some omnipotent force to render vaccinations obsolete, viruses do not try to evolve with a particular aim in mind, on the contrary, in accordance with their genetic code they endeavour to replicate as accurately as possible. Sometimes poor raw materials or restricted physical circumstances can result in a "mistake", instead of producing an exact replication of itself, the virus produces a mutation. Usually these malformed replicants perish quickly, unable to compete with their perfectly formed kin. Occasionally, however, in specific circumstances and at a particular time, a mutation may occur that is better suited to its environment and is therefore more likely to survive and replicate. In a vaccinated body, for example, a virus whose outer shell has undergone some form of mutation, is less likely to be recognized by that body's immune system and is therefore more likely to be able to enter into successful partnership with suitable host cells. Viral learning is neither a matter of design nor simply a matter of chance, instead viral learning is a complex function of constraint and opportunity.
Amongst the complexly interconnected neurons of Foucault's brain, billions of negotiated boundaries learnt in response to information flowing through and around his body. Although hailed as one of the great thinkers of the twentieth century, a slice extracted from Foucault's brain would look disappointingly much the same as a slice taken from any other brain. The most powerful microscopes would reveal no secrets, no insights and no thoughts. Had it been possible to tag and follow a momentary sensation into the philosopher's cortex, it would not have divulged an eventual resting place, rather it would have been seen to split and dissipate around various neural networks. A particular sensation or moment is not so much stored by the brain as absorbed by it. Oblivious to any discursively constructed meaning, parallel networks of nerve cells are continuously and minutely tuned as electrical excitations speed across them. In response to appropriate stimuli, memories are literally re-membered as various configurations of neurons are jolted into action.
In a short story entitled The Secrets of a Man, Hervé Guibert describes the fascination of a neurosurgeon as he dissects the brain of a famous philosopher, although the philosopher's name is never mentioned, it is clear that Foucault was the inspiration behind Guibert's work. As the surgeon digs deeper he slowly reveals visceral traces of the memories, ideas and passions of his subject. During the final weeks of his life, Foucault spent a considerable amount of time in conversation with Guibert. Unknown to Foucault, Guibert not only carefully recorded their conversations, but also transcribed the details of Foucault's delirium, his moods, attitudes and appearance. As the fictional neurosurgeon scrutinizes the philosopher's brain, he discovers three particularly deeply ingrained memories. The first of these "terrible dioramas" tells of a young boy who is forced to witness an amputation performed by his father. The second describes a courtyard still permeated with the presence of a woman imprisoned there for decades. The third tells of an able student whose locally celebrated position is threatened by a sudden influx of talented intruders, it recalls how the child philosopher's wish to be rid of the unwelcome competition is granted by the Nazi extermination of the Jewish refugees.
In an interview on French television in 1990 Guibert was accused of intruding on Foucault's private agonies and exploiting them for his own selfish motives. Guibert attempted to defend himself, but admitted that he thought Foucault would have been furious had he known of the secret journal. By 1984 Foucault's body was well accustomed to uninvited intruders, any fury directed at Guibert should have been reserved for a far less intelligent crime. The cerebral layers that are painstakingly revealed by Guibert's neurosurgeon owe nothing to the tangible neurological organization of Foucault's brain. Through his deployment of a metaphorical archaeology, Guibert not only drags Foucault's carcass back to the 1960s, but denies his brain it's dynamic complexity. In 1971, Foucault contributed an essay entitled Nietzsche, La Géneálogie, l'histoire to a collection of works published in tribute to his mentor Jean Hyppolite. In this essay Foucault recognizes the inherrent failings of an archeological analytics and proposes that Nietzschean genealogy presents a more interesting route of investigation.
The end of a genealogically directed history is not to rediscover the roots of our identity but, on the contrary, to strive to dissipate them; it does not attempt to locate the unique home from whence we come, that first homeland to which, the metaphysicians promise us, we will return; it attempts to reveal all the discontinuities that traverse us.8
Drawing from Guibert's accounts of his final conversations with Foucault, James Miller claims, 'The "obligation of truth," it seems, really was Foucault's unavoidable fate - just as he implied in his final lectures at the Collège de France. Try as he might, the philosopher could not remain silent about who he really was.'9 It is, of course, far from impossible that Foucault may have eventually surrendered to the urge to confess, he was, after all, intimately aware of the pervasive machinery through which this impulse is propagated. However, to equate the act of confession with the truth of the man owes more to the words of the Pope than to the words of Foucault. Although his work may have produced remarkable insights into the economies of discourse, it should not be assumed that his critique necessarily insulated his body from the effects of discourse or any other economies.
The episodes of his life that Foucault shared with Guibert can no more be equated with the "terrible dioramas" poetically discovered by the scalpel of an imaginary surgeon than can HIV be equated with the truth of his sexual desires. Encounters with amputation, incarceration and HIV undoubtedly influence the body, they induce reactions and inspire chemical adjustments. Their effects, however, are not laid down like slate on a riverbed, instead they are absorbed and dissipated around complex networks. Whilst Guibert may have been in no position to draw linear equations of cause and effect between distant moments in Foucault's life, the same must also be said of Foucault himself. The validity of archaeological activity is not enhanced by the authority of the archaeologist in charge of the dig. The process of excavation does not uncover fundamental truths, but discursively attaches historical significance to momentary abstractions. As Foucault's body lay on the pathologist's slab, expert observations revealed strange lesions chased across its cerebral cortex, although these scars encapsulated no "terrible dioramas", they were evidence of extraordinary neural activity. Whilst Guibert was engaged in composing his secret notes and constructing truths from Foucault's musings, microscopic neurosurgeons were busy investigating the neural pathways that twist around the crevices of a philosopher's brain.
Toxoplasma gondii is a protozoan parasite that resides relatively innocently in approximately half of the world's human population. 50% to 60% of the inhabitants of the United States are believed to be infected, in the United Kingdom the figure is between 20% and 40% and in France it is estimated that up to 90% of the population play host to the tiny organism. In spite of pandemic distribution, its symptomatic manifestation known as toxoplasmosis is extremely rare. According to most medical texts , the only statistically notable consequence had seemed to be amongst foetuses whose mothers became newly infected during pregnancy. During the early 1980s, however toxoplasmosis, alongside Kaposi's sarcoma and Pneumocystis carinii pneumonia, was one of the extraordinarily rare diseases which suddenly started to emerge amongst the concentrated gay populations of New York and California. Drawing from evidence of toxoplasmosis amongst organ transplant patients whose immune systems are actively compromised to avoid rejection, it appears that the "normal" asymptomatic accommodation of Toxoplasma gondii is transformed by immunosuppression. Given its corrupting effect on T4 cells, HIV does present a logical accomplice for Toxoplasma gondii's more adventurous ambitions.
The full life cycle of Toxoplasma gondii can only be sexually completed in either wild or domestic cats. Following the fusion of macro and micro gametes the resultant oocysts eventually pass to intermediate hosts via the cat's faeces. Any warm blooded animal including man can act as an intermediate host. Following the ingestion of fertilized cysts, digestive enzymes cause the cysts to rupture allowing rapidly replicating tachyzoites to be distributed throughout the body by the blood and lymphatic systems. Eventually numbers of tachyzoites begin to cling together and form tissue cysts commonly in the eye, skeletal muscle, cardiac muscle, and frequently the brain of the secondary host. These cysts usually then remain dormant within the tissues of the intermediate host and are only reactivated once reintroduced to the primary host through its eating infected flesh. Evidence suggests that the dormant phase of the life cycle is ensured by the immune system of the secondary host, it appears that the Toxoplasma gondii protozoa find themselves unavoidably detained.
Whilst Guibert studiously analyzed the surface effects that rippled across Foucault's body, he was unaware of the tangled economies that collectively contributed to each twitch and every word. Alongside the cerebral structures of most of his compatriots, Michel Foucault's brain, had operated as an effective prison for Toxoplasma gondii. Prior to its relationship with HIV, his immune system kept a careful watch over the sleeping cysts. By June 1984, however, his depleted immune system had all but lost the multiple battles it was having with a number of opportunistic invaders. The encysted Toxoplasma gondii protozoa seized an unexpected opportunity for further replication. With insiders' information, the intracellular parasites explored for further possibilities within Foucault's brain. Oblivious to potential meanings discursively mapped onto a distant surface, each parasitic organism minutely analysed the material of Foucault's mind.
Death is the great analyst that shows the connexions by unfolding them, and bursts open the wonders of genesis in the rigour of decomposition. 10
In 1757, Damiens the regicide was sentenced to death. He was to have the flesh torn from his chest, arms, thighs and calves, his body was to be drawn and quartered, and his limbs and trunk were to be reduced to ashes and thrown to the winds. In spite of six horses and specifically manufactured steel pincers, the body of Damiens displayed considerable endurance. The tissues of his thighs and torso clung to their bones with irritating resilience, his arms and legs defeated the efforts of a team of horses and relinquished their bodily attachment only after much of the connecting sinews and muscles had been hacked away. The body of Damiens, through its elongated decomposition, asserted a persistent unity. Faced with many battles at multiple sites, the body, far from disintegrating into composite parts, demonstrates its obstinate, if short lived, integrity.
In 1984, the body of Foucault was engaged in numerous struggles on various divergent fronts. Whilst his last two books jostled with other publications for room in bookshops, for critical evaluation and for their appropriate position within a body of work, inherited and latterly acquired genetic information competed for the control of blood cells, and neurons fought with parasites for the space to think. Whilst oxygen and mucus battled for time with his lungs and pain killers grappled with neuro-transmitters, moralists defined the cause of his body's disease and his friends deduced the secrets of his soul. Like the body of Damiens, the body of Foucault is not eradicated by the multitudinous machineries that constantly challenge the boundaries of its existence. Quite the reverse, the body of Foucault is constantly reconstructed through the complex interplay of these technologies of the body.
...this technology is diffuse, rarely formulated in continuous, systematic discourse; it is often made up of bits and pieces; it implements a disparate set of tools and methods. In spite of the coherence of its results, it is generally no more than a multiform instrumentation...the power exercised on the body is conceived not as a property, but as a strategy, that its effects of domination are attributed not to 'appropriation', but to dispositions, manoeuvres, tactics, techniques, functionings; that one should decipher in it a network of relations, constantly in tension, in activity, rather than a privilege that one might possess; that one should take as its model a perpetual battle rather than a contract regulating a transaction or the conquest of a territory.11
The diffused mechanisms immanent to Foucault's body were neither its property nor devoted solely to its service. Each HIV virus, whilst circulating through Foucault's veins, were also intimately engaged elsewhere. As each virus contributed their micro-effects to the 'dying body', they were simultaneously woven into the fabric of a pandemic disease. Working in symbiotic combination with blood cells, medical orthodoxy, academic propriety and bacterial infection, the virus manoeuvred into new positions and accommodations dragging in its wake the fluid parameters of Foucault and other bodies. For 57 years, a network of relations were held in sufficient tension to produce an overall effect of a coherent body, a persistent identity and an authoritative mind. The body of Foucault as a discursive locus may have dissipated, but the millions of traces left after this local decomposition continue to circulate and replicate through related and disconnected bodies. The organic death of this author enacts the discursive death of the author. By leaving his "work" obviously unfinished and by removing the corporeal remnants of the "author", the viral machinery once associated with Foucault is now able to replicate at speed, producing thousands of mutations and adapting to changed circumstances.